Chris passes his test one week after turning 17
27th March 2008
Chris Napier, a determined builder passed his driving test through Castle Driving School on March 22nd 2008, one week after his 17th birthday.
Chris passed with Castle Driving School after taking one of our intensive courses and passed without a single fault.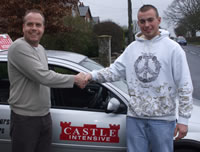 Instructor Paul Turnbull said he had been impressed by how easily the youngster transferred from trundling through fields on a tractor to negotiating his way through the traffic-clogged streets of Colchester.
"The only thing he had any trouble with was remembering to check his mirrors," he said.

"For someone to pass this soon after becoming eligible is really unusual."
Chris' success story made the front page of the local Colchester newspapers.