"After 12 years or so without a car it was certainly a very helpful - and calming - refresher to driving after so long. It was also a very useful re-introduction and refresher on the Highway Code changes over the years."
Peter Lello, Colchester
Refresher Driving Courses
Do you hold a full driving licence, but feel intimidated to use it on today's increasingly busy roads or just feel you would like to improve your driving to a higher standard? If so, Castle Driving School can help, although most people associate a driving school with people learning to drive for the first time; drivers with all levels of experience can benefit from lessons with our fully qualified and experienced driving instructors.
Would I benefit from a refresher course?
Refresher driving lessons are ideal for people who want to improve their driving skills to drive safely and with confidence.
Refresher lessons are available to all age groups. If you passed your driving test many years ago and would like guidance on specific driving skills like parking in busy car parks or reverse parking on the side of the road (parallel parking) then we can tailor the lessons to suit your individual needs whether it is one lesson or a complete course.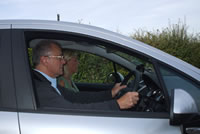 If you were involved in an accident either as a driver or a passenger and are now frightened to get back behind the wheel then taking those first steps back to being mobile can be made easier with an experienced instructor beside you for reassurance.
Refresher lessons are also great for people who will be supervising their son or daughter whilst they're learning to drive with an instructor and want to update their own knowledge and skills.
Most common reasons
There are many reasons why people choose a refresher course, the most common being:
Haven't driven a vehicle for many years
Haven't driven since passing their driving test some months/years ago
Loss of confidence on our ever busier roads
Flexible tuition structure and times
Unfamiliarity with new road layouts
Recently moved to Colchester or the surrounding area
I own a business, can you help my staff?
Yes we can, business owners concerned about their employees driving may wish to send them on a refresher course as an employer's motor insurance can rise drastically if an employee has an accident whilst driving a company vehicle.
How many lessons will I need?
The number of refresher lessons that you require will depend on your current skills, after your first lesson your instructor will be able to advise you how many more lessons they feel you need.
Many people are reluctant to ask for refresher lessons but many have had their confidence restored after driving again in a reassuring environment.
Would I have to drive a manual car?
No, refresher lessons are available in both Automatic and Manual cars.
Areas Covered
We have instructors covering the Colchester and Tendring Boroughs as well as some areas further afield. Call or contact us to check if we have a driving instructor in your area.
Refresher prices (per hour)
| | |
| --- | --- |
| Manual Car | £36.00 |
| Automatic Car | £38.00 |