Testimonials from Castle Driving School Pupils
Over the years literally thousands of pupils have passed their driving test with Castle Driving School. Below are a few examples of the feedback we have received recently. If you learned to drive with Castle Driving School we'd love to hear from you! Contact us here or submit a testimonial, it doesn't matter when you passed, we'd love to hear from anyone who has passed during our 40+ years as Colchester's premier driving school.
---
Use the filters below to show testimonials from former pupils who had that type of driving tuition.
Search Results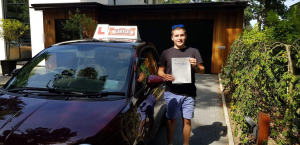 Shirley is an exceptional instructor; a high attention to detail to try and get the best driving out of pupils but always very friendly and approachable.
Shirley does not teach to the test; she teaches how to be a safe and sensible all-round driver!
Will be making my brother learn with Shirley!!!
Daniel Williams (Passed in 2019 - Aged 17), Colchester
My mother-in-law recommended this school and I'd also definitely recommend it to all my friends. Phil was an amazing instructor. Always calm, supportive and knowledgeable. You can tell straight away that he is an experienced instructor as he can quickly spot your weak points and work on it. I'd like therefore to say a big thank you again to Phil for helping me to pass my driving test first time.
Margaret Mirra
I really enjoyed my time learning to drive with Phil from castle. As well as learning, I had a fun time talking to a friend every week; It was great to learn driving with castle and I will thoroughly recommend to any friends I have looking to drive.
Stephen Webster (Passed in 2019 - Aged 18), Colchester
I had a brilliant experience with Phil. He was extremely supportive, constructive and great to get along with throughout our weekly lessons. Excellent instructor. Will definitely recommend to others in the future.
Ethan Allen (Passed in 2019 - Aged 20), Colchester
I would like to say a big thank you to Julie for all of her help. I passed my driving test in 1990 but never drove after that point.... until now that is. I was extremely nervous and had no confidence. Julie helped me to overcome this with her patience, understanding and great hints and tips. I am so grateful!
Sarah Dalton (Passed in 2019 - Aged 47), Colchester
Phil was a great instructor, supportive and easy to get along with. I Would definately recommend him to other learners!
Matt Perou(Aged 21), Ardleigh
Had the one of the best experiences with Castle driving school, I've only had one instructor but Eddie was most certainly the best, he was patient with my driving from start to finish, and with nearly two years of lessons I passed first time, Eddie is one of the best instructors by far and allowed me to develop my driving Carefully and Stressfree, not only ensuring that I was a confident drivier but also making sure I would be confident when driving on my own, couldn't recommend him enough.
Gina Odd (Passed in 2017 - Aged 17), Clacton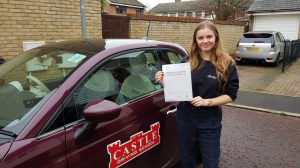 Shirley was recommended to me by a couple of friends, and is a gem! I felt so comfortable since the first lesson and she gave me the confidence that I didn't have. I passed first time with 1 minor and that was all down to her. Not a bad word to say!!
Jasmine Pepper (Passed in 2018 - Aged 18), Colchester
I passed my test with Martin as my third instructor. My previous 2 quit mid way through teaching me. Martin was an AMAZING teacher and really funny but serious when needs be. He taught me to drive very well and was always patient and helpful with anything I was unsure of. I passed first time with just 2 minors after being taught by him and I highly recommend him as an instructor.
Cheers Martin!!
Lewi Pilgrim (Passed in 2018 - Aged 17), Colchester
i had chosen castle driving school after a very bad time with another instructor from another company. i called up castle and explained my situation and i was introduced to a very friendly instructor called phil o'keefe .he is very easy going and explains things very clearly without being judgmental and makes you feel at ease .i would highly recommend him to anybody learning to drive i just passed today.i seriously cant thank him enough .it was a pleasure ..thanks once again
Andrew Johnson (Passed in 2018 - Aged 33), Colchester