Testimonials from Castle Driving School Pupils
Over the years literally thousands of pupils have passed their driving test with Castle Driving School. Below are a few examples of the feedback we have received recently. If you learned to drive with Castle Driving School we'd love to hear from you! Contact us here or submit a testimonial, it doesn't matter when you passed, we'd love to hear from anyone who has passed during our 40+ years as Colchester's premier driving school.
---
Use the filters below to show testimonials from former pupils who had that type of driving tuition.
Search Results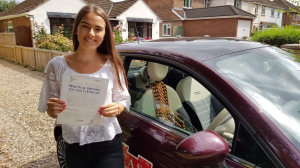 I passed first time with no minors with Castle Driving School and I could not recommend them enough. Especially instructor, Shirely - it was mainly all down to her. She made me thoroughly enjoy learning to drive, amazing to learn with and a great teacher.
Harriet Cook (Passed in 2018 - Aged 17), Colchester
Phil was a fantastic instructor, he supported me through the whole process and even when it was tough for me to fit in lessons he was flexible and went out of his way to fit me in. He planned an individual course of action that made the whole process a dream. I would highly reccomend Phil to anyone wanting to get on the road. A top guy who knows how to teach.
Joseph Wood (Passed in 2018 - Aged 26), Colchester
I had instructor Phil O'Keefe and couldn't have asked for any more. He was friendly, supportive and taught me everything I needed to know. Really pleased with the help and service received. 10/10.
Frank Beavis(Aged 17), Dedham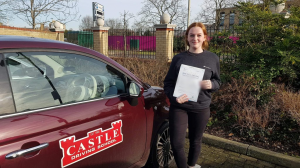 After Shirley was recommended to me from a friend, I had weekly lessons with her. My confidence and ability grew week to week with the support from Shirley and she made me feel extremely comfortable in the car, and able to ask any questions where need be. I passed first time without any minors and would recommend to all!
Olivia Freeman (Passed in 2017 - Aged 17), Colchester
I came across Castle Driving School as I was looking for an intense driving course. Having never driven before I was very nervous. Paul made me feel at ease and made me believe I could do it. With great advice, pointers, tips and open dialogue, I was able to pass my test first time. Thanks Paul!
Tessa Roy (Passed in 2017 - Aged 30)
Passed first time with only 4 minors after learning with Eddie! Cannot thank him enough. Excellent driving school
Kayleigh Millgate, Colchester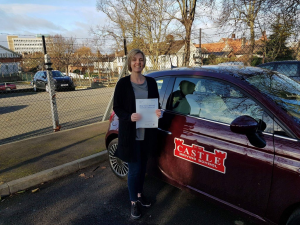 I started to learn to drive back in April 2017. I had never had any previous experience, or even sat behind the wheel of a car,so at 47 it was my resolution to be driving by the end of the year after years of promising friends and family but nerves getting the better of me. Shirley definitely had her work cut out. After numerous turbulent lessons, and stressful, but momentous hours I have achieved, with the help of my wonderful tutor, Dame Shirley the impossible and with only three minors. I am looking forward to many years of happy motoring Thanks to Castle and my brilliant tutor.
Sally Pearson (Passed in 2017 - Aged 47), Colchester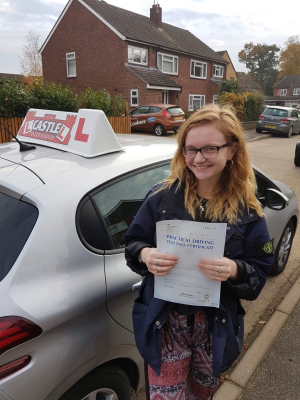 I completed my intensive course with Paul who was welcoming and made me feel comfortable right from the start. Throughout the intensive course he kept me going when I wanted to give up and done a fantastic job as i was able to pass first time with all of his help. I could not have done it without him. If you're looking for an instructor to keep you on the right track and give you confidence when you're doubting yourself I highly reccomend Paul. Thankyou for everything.
Sydney Cranfield (Passed in 2017 - Aged 17), Colchester
I first learnt to drive with Derek at castle when I was 17 years old. I knew Castle was the right choice for my driving instructor training and I was right! Martin is an excellent teacher who challenged me and really got the balance right boosting my confidence. He helped me to pass both my Part 2 and part 3 first time and I couldn't be more grateful. I highly recommend him if you are thinking of taking an advanced test or becoming a driving instructor. Shirley also talked me through the process, has always been completely honest. Thank you all round!
Dawn Holmes, Colchester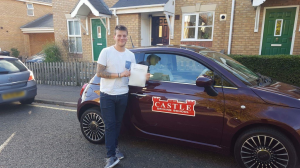 I'd like to say thank you to Shirley for the great experience in teaching me to drive, from the initial phone conversation all the way thought o the test she made me feel at ease and confident when driving. regardless of how frustrated I got with myself she got me through it and explained everything perfectly, a credit to the company and would highly recommend the school and instructor to friends and colleagues. thank you for the ability to have some freedom.
Andy Lonergan (Passed in 2017 - Aged 33), Colchester