Testimonials from Castle Driving School Pupils
Over the years literally thousands of pupils have passed their driving test with Castle Driving School. Below are a few examples of the feedback we have received recently. If you learned to drive with Castle Driving School we'd love to hear from you! Contact us here or submit a testimonial, it doesn't matter when you passed, we'd love to hear from anyone who has passed during our 40+ years as Colchester's premier driving school.
---
Use the filters below to show testimonials from former pupils who had that type of driving tuition.
Search Results
I took an intensive course with Paul and I absolutely cannot recommend Castle Driving School enough! With absolutely no driving experience, with Paul's excellent instruction, I was able to pass the driving test first time. If you're looking to learn to drive, this is the best place for it.
Dale Richards(Aged 28), Colchester
Phil was great at teaching me to pass first time, I would recommend to others who are wanting to pass quickly and become a safe driver.
Nathan Lerwill(Aged 19), Colchester
Phil is an amazing instructor who has taught me to drive a car safely, and feel confident doing it. Could not recommend enough. :)
Gimhani Thennakoon Mudiyanselage
Phil was a very good driving instructor.. I passed first time. Need I say more..
Archie H (Passed in 2022 - Aged 17), Colchester
Paul was an excellent instructor, was very patient and thinks about all the details that you will need for your test. It proved to be a very effective and efficient course as I passed with no driving faults after 10 days.
Thank you again to Paul and Shirley!
Claudia Hampton (Passed in 2022)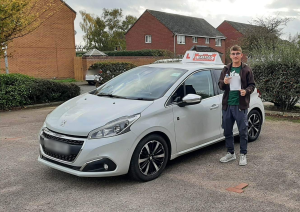 Paul was absolutely fantastic I would recommend him to anyone he was so nice putting me at ease and Shirley was so efficient sorting the course and any questions out thanks so much
Buster Suggate(Aged 19), Colchester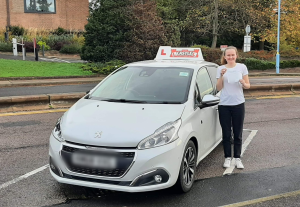 Paul was very patient and I felt my confidence increase with every lesson. Thanks to Castle Driving School I now have my independence!
Hannah Masterman (Passed in 2022 - Aged 22), Colchester
Phil was the perfect instructor for me.
He took things at just the right pace so that I never felt like we were wasting time and I never felt rushed into things.
Despite me being shaky at times, he gave me the advice I needed at every point so that I could correct my errors quickly.
Jensen Hoy (Passed in 2022), Colchester (Highwoods)
Today I passed my driving test first time and I just want to thank Phil so much for his time, patience and understanding. From the moment I took my first lesson with him after coming from another driving school, he made me feel really comfortable and relaxed even when I made mistakes.
I would highly recommend Phil to anyone who is just about to start lessons and just want to say thank you again Phil for all your time!
Dalia Baker (Passed in 2022 - Aged 17), Wickham Bishops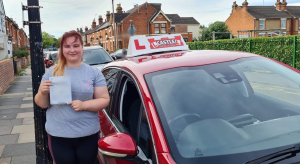 I was recommended Castle from a work colleague who passed first time with the help from Shirley. Having never sat behind the wheel of a car (let alone moved off) I felt safe in the hands of my wonderful instructor.
I was able to learn at my own pace and was never pushed to do anything I was uncomfortable with which really helped with my anxiety. Even with a few wobbles I was able to build my confidence and pass first time!
Oh my lovely Shirley, what would I have done without your patience and kindness!
Dearnna Clinkscales (Passed in 2022 - Aged 29), Colchester