Testimonials from Castle Driving School Pupils
Over the years literally thousands of pupils have passed their driving test with Castle Driving School. Below are a few examples of the feedback we have received recently. If you learned to drive with Castle Driving School we'd love to hear from you! Contact us here or submit a testimonial, it doesn't matter when you passed, we'd love to hear from anyone who has passed during our 40+ years as Colchester's premier driving school.
---
Use the filters below to show testimonials from former pupils who had that type of driving tuition.
Search Results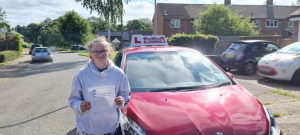 I can't thank shirley enough for helping me learn to drive from day one. I was nervous to start driving but was immediately felt comfortable when sat next to shirley. Would recommend castle to anyone. Thanks to castle and shirley.
Madison Boughton(Aged 17), Colchester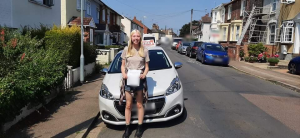 Thank you so much to Castle Driving School, and Paul specifically, for being such an understanding and effective teacher and making me feel at ease in the driving seat, meaning I passed first time! I couldn't recommend Paul enough, and am so thankful for the independence I now have :)
Holly Bolton (Passed in 2021 - Aged 22), Brightlingsea
My experience at Castle Driving School has been nothing but encouraging and motivating when learning how to drive. I have to say thank you to Matt my driving instructor who has been so patient with me but also challenged me to push myself outside of my boundaries. He made me comfortable when driving and focused on any areas of weakness I have. Overall, Matt has been a great instructor and I'm grateful for all the time and help that he has put in to my driving journey.
Yumi Adams, Colchester
Yumi Adams, Colchester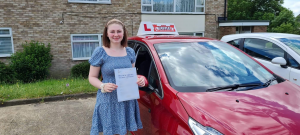 I never could have passed my test without Shirley. Despite the lockdowns and test cancellations, Shirley has been amazing and helped me so much with my nerves. She is so supportive and from the start has enabled me to become a driver with high standard and helped me overcome my nerves.
Lace Moules (Passed in 2021 - Aged 19), Colchester
Shirley helped me to achieve a pass first time and a I couldn't recommend her / Castle Driving enough. She was always patient, friendly and thorough with her teaching and goes above and beyond to assist. Thank you Shirley!
Kirsty Jarvis (Passed in 2021)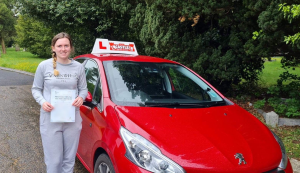 Would 100% recommend Castle, they helped me so much when I was extremely nervous. They give great examples on how to do things verbally and visually so doing certain things were made a lot clearer.
Courtney Hogg (Passed in 2020 - Aged 17)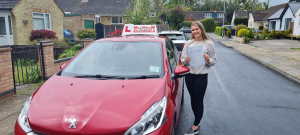 Cannot thank Shirley enough for her patience over the past year or so! After 3 lockdowns in the way of me doing my lessons, she always made sure she'd message reassuring me when shed be back up and running and was always so great with getting me cancellations with the waiting list. Thankyou Shirley!
Maisie Barnes (Passed in 2021 - Aged 18), Colchester
Paul Turnbull helped me to achieve a pass with only one minor fault. This fantastic result was down to fantastic instruction, as well as Paul's vast knowledge on the tips & tricks needed to fly through the exam. Although lockdown did impact the course, Paul was very helpful keeping me up to date & fully informed. I would recommend the intensive course & specifically would recommend Paul.
Rob N/A (Passed in 2020 - Aged 23), Colchester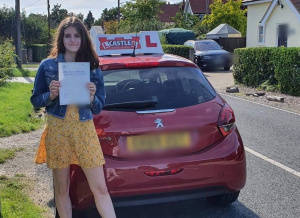 So happy to be finally able to drive! Shirley taught me very well in a friendly and easy to understand way. Driving felt very simple and I never felt pressured when making mistakes. Highly recommended :)
Mia Card (Passed in 2019 - Aged 18), Colchester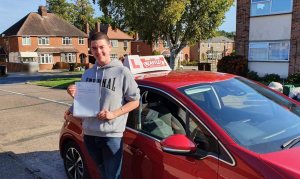 I cannot thank Shirley enough for helping pass my test, first time!! Would highly recommend Castle Driving School due to how friendly and welcoming they are. I cannot thank them enough.
Connor Wright (Passed in 2019 - Aged 17), Essex