"If you're looking for an instructor to keep you on the right track and give you confidence when you're doubting yourself I highly reccomend Paul."
Mark, Colchester
Intensive Driving Courses
In 1991, Castle Driving School introduced intensive courses (also known as fast track or crash courses as some driving schools ominously call them!) for the first time in Colchester and Essex, an option we continue to offer with increasing demand as more and more pupils wish to pass their driving test quickly. Now intensive courses are established as the most cost effective and time saving way to learn to drive. At Castle no matter how experienced you are, we have an intensive driving course for you.
Why Choose An Intensive Driving Course?
Courses from 3-12 days
Fully qualified instructor with over 20 years experience
The fastest route to a test pass in a comfortable manner
Considerable savings of time and money
New skills can develop quicker if they are concentrated and reinforced in a shorter period
Highly convenient, especially for those with many other commitments
Training with regular breaks
Castle Driving School offers intensive courses with a fully qualified and very experienced instructor. These courses run from 3 to 12 days. The last day of each course is just the driving test day. All our course prices include the practical driving test fee. This option is suitable for those students who have already passed their theory test and want to pass their driving test over a short time frame.
Everyone is different so we always insist you take a 2 hour pre-course assessment to help us assist you to select the most suitable course. Whether you are a total beginner or if you have had any on/off road experience then the assessment lesson will ensure you undertake the right course.
A normal days training for an intensive course includes 5 hours of driving tuition spread over 5 1/2 hours to allow for two breaks. Please ring for further details.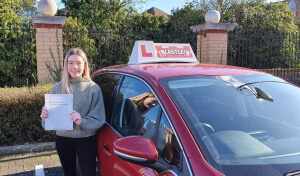 There are lots of driving schools offering intensive courses. The DVSA say that on average a beginner requires 45 hours professional tuition combined with some private practice. We advise you to be very wary of any schools not offering courses that provide 45 hours or more tuition.
Although these courses are designed for those who have passed their theory test we can book out days in advance. This is ideal for someone with time off available that might want to put in a lot of hours. This pupil can then either book an intensive course once they have passed their theory test or return back to their weekly driving instructor. This is open to learners within or outside of Castle. The days are booked at 5 hours training per day. The fee is paid in advance and is non-refundable.