"I had instructor Phil O'Keefe and couldn't have asked for any more. He was friendly, supportive and taught me everything I needed to know."
Frank Beavis, Dedham
The Practical Driving Test
You cannot apply for your practical driving test until you have passed your theory test. You will be asked to give your theory test certificate number when booking your practical test.
The driving test lasts approximately 40 minutes. The route usually involves a variety of town and country driving. It also includes dual carriageway roads so that you can demonstrate your skills of driving above 30 MPH. You will also be asked to demonstrate one of the four slow manoeuvres.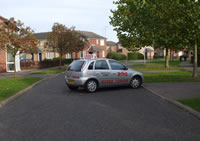 At the beginning of the test, when you meet the examiner, you will be expected to show him or her your signed provisional driving license and your theory pass certificate. If you don't have a photocard licence you MUST bring a valid passport.
To start with you will be asked to read a vehicle number plate from a distance of 20.5 metres (67 feet).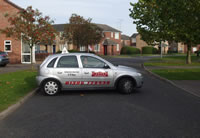 You will then be asked three "show me, tell me" questions. Before the driving begins the examiner will ask you to get yourself comfortable in the car and will explain briefly what the test involves. After that he or she will ask you to start the engine and off you go!
As from the 4th October 2010 you will have to carry out approximately 10 minutes of independent driving. These instructios will be explained clearly by the examiner by either using diagrams or road layouts or following road signs. Full details of the new test are on our news page where you can also view the DSA independent driving test video clip.
At the end of the test the examiner will tell you if you have passed or failed. You will fail if you make more than 15 minor driving faults, or any major faults.
If you passed the test, the examiner will give you a pass certificate which you will need to send to the DVLA along with your provisional licence. If you failed the test, he or she will give you written feedback on the mistakes you made and you will have to wait ten clear working days before you can retake it.
The current price of a practical driving test is £62.00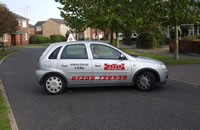 The local test centres are Colchester and Clacton. Other test centres can be found on the reverse side of the application form which is available from your Castle driving instructor or a Driving Standards Agency Test Centre. The gov.uk website also provides a list of the other test centres. You can book your driving test online or by calling 0300 200 1122.
Please note that when you pass your test in a manual car you can drive both manual and automatic cars. If you pass your test in an automatic car, you will be restricted to an automatic.
For the latest information on driving; provisional and full driving licences and where to take your test and booking your test online check out the Learning to Drive section of the gov.uk website.