"Paul is a quality driving instructor and thanks to his patience and driving experience he enabled me to pass my test in 5 days."
Chris Napier, Arlesford
3-12 Day Intensive Driving Courses
If you have already passed your theory test then an intensive course is for you, all you need is the desire to and commitment to concentrate your energies. Learning to drive isn't easy, but your Castle Driving School instructor will help you to feel relaxed, confident and ready to share your first day nerves. Our intensive courses are only suitable if you have passed your Theory and Hazard Perception tests.

No matter how experienced you are now, we have a course which is ideal for you. If you have a special need, however, that is not covered by our course list we will be pleased to structure something specifically for you.
What are the advantages of an Intensive Driving Course?
Considerable savings of time and money
New skills are quickly reinforced with practice
Highly convenient, especially for those with many other commitments
Training is with regular breaks
Frequently Asked Questions
Will it be easy?
All you need is the desire and commitment to concentrate your energies for one to two weeks. If you feel you can, then this is for you. We want you to feel relaxed and confident and are there to share your first day nerves.
How will I know how well I am doing?
After each day your instructor will inform you of your progress and of the tasks you will be tackling on the following day.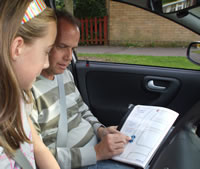 Will I be taught all aspects of driving?
We see it as our professional duty to meet basic driving needs. Our first priority is setting safety standards. Driving at high speed, for example, on a dual carriageway (which is now a DVSA requirement) is a different ball game to reversing in a suburban street. We will teach you to do both safely.
What about travel arrangements?
We can arrange to collect you and take you back home, or another convenient pick up in Colchester and the surround villages. For areas outside this area there may be a travel charge. This can be discussed when making your enquiry.
For those living further away we can meet you at any of the public transport stations such as North Station, Colchester or again some other convenient pick up point.
How do I select the right course?
Everyone is different, and because of this we insist that an assessment lesson is taken to find the most suitable course for you.
Assessment Driving Lesson
A two hour assessment is essential and has proven to be very beneficial. This way our experienced, fully qualified, instructor can advise on the most suitable course for you.
Cost of assessment: £65.00
Make sure you have enough free time!
Don't be rushed into taking a shorter course than you need because of work and/or family commitments. Try to arrange your time off around your driving course, not the other way round.
Areas Covered
Courses are held in Colchester, Clacton and the surrounding areas. The test centres used for the Practical Test are in Colchester and Clacton.