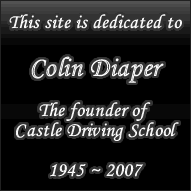 Learn to drive safely for Life
Whether you are a nervous beginner or have been driving for 20 years Castle Driving School can make you a better and safer driver.
For those learning to drive we offer driving lessons in both manual and automatic cars. Lessons are booked weekly and pupils typically have 1.5 or 2 hour lessons.
For those with the time and desire to pass quickly we offer our highly recommended and successful intensive driving courses that depending on your ability can mean you pass your driving test in just one week! Intensive driving courses (also known as fast track or crash courses as some driving schools ominously call them!) were first introduced to Colchester in 1991, by Castle Driving School and these years of experience enable us to deliver high pass rates time after time.
Why Choose Castle?
There are many reasons why people choose us, but the most common reasons people tell us are:
Recommendation - Most new pupils say Castle were recommended to them by a former pupil
All of our instructors are fully qualified
All questions and calls are answered by a fully qualified instructor
Flexible tuition structure and times
Male and female instructors
Manual and automatic cars
Unlike some other driving schools we do not offer special introductory rates for new pupils. These discounted lessons can be with various instructors and often involve little driving as the instructor(s) will be barely earning enough to cover their petrol costs. At Castle Driving School, every lesson you have with us includes as much driving as possible and will always be with your own, dedicated and fully qualified instructor ensuring that you receive the best value for money at all times.
Castle Driving School was founded in 1966 by Colin Diaper and since then literally thousands of pupils from Essex, Suffolk and all over East Anglia have passed their driving test with us. In some cases we have taught several generations from the same family! Sadly, Colin passed away in 2007 but the school remains a family business and is now owned and managed by his daughter, Shirley, an experienced driving instructor herself.
You can read more about the history of Castle Driving School on our about us page.
Fully qualified, DBS checked, instructors

Some driving schools advertise that they have 'qualified' driving instructors, but this doesn't always mean that they are 'fully qualified'. All fully qualified driving instructors display a green badge in their windscreen. This shows that they have passed all 3 exams necessary to become a fully qualified instructor.
Many of the larger driving schools in the area have what they call 'trainee' instructors or PDI's (Potential Driving Instructors). These trainee instructors display a pink badge in their windscreen. The pink badge indicates that they have passed the first exam which is the theory test (containing 100 questions & the hazard perception test) and the second exam which is an hour long high standard driving test. However, they HAVEN'T passed the 3rd exam which is the Instructional Ability test.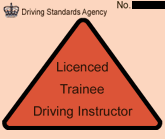 By law these trainee's are allowed to teach learners but are supposed to have regular supervision from a fully qualified instructor. A driving school, by law, does not have to advise you whether you are receiving tuition from a fully qualified instructor or a trainee. If the trainee instructor does not pass the 3rd exam after their 3rd attempt then they have to stop giving tuition and have to repeat the whole process again beginning with taking the 1st exam. If you are a learner and you have been receiving tuition from one of these instructors that does not pass the 3rd exam you would be moved to another instructor. You may still not be informed as to whether your new instructor is a trainee or fully qualified.
ALL of Castle Driving School's instructors are fully qualified and have been DBS (Disclosure and Barring Service) checked. We do not take on any trainee instructors.
Highly Recommended
Most of our new pupils come to us because someone they know has recommended Castle Driving School to them. Friends, family, work colleagues and even a former driving examiner have all been stated as the reason why a pupil has chosen to learn to drive with us. Why not take a look at our testimonials section where you can read comments from former pupils regarding our tuition and service?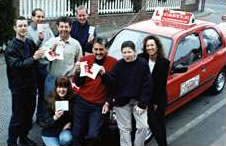 It's A Family Affair
Eight members of the same family have passed their driving test first time with Castle Driving School. Two generations, spanning 25 years, have learned to drive with Castle - seven of them with the same instructor!
You Never Stop Learning To Drive
Over 50 years of experience has taught us that passing your driving test is not the end of learning to drive. Once you have passed your driving test there are a number of post test training courses available from Castle Driving School designed to improve your driving skills further.
Experienced drivers facing ever increasing traffic volume and ever more complex road layouts often contact us because they feel confused and unsure how best to deal with these junctions. We are also contacted by people with bad habits and 'rustiness' which without professional tuition can be difficult to overcome. Castle Driving School can help you deal with these common problems by developing a tailored refresher course aimed to help you become a better and safer driver and to restore your confidence.